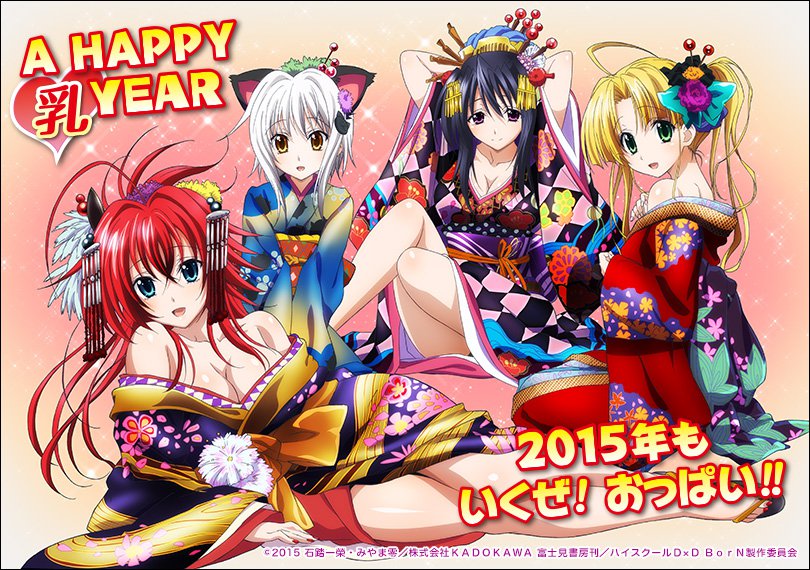 First off, I can't believe I forgot wishing new year. Whatever I say will not make up for it, but still there should be a NEW-YEAR-ATMOSPHERE at Hi10. So...
HAPPY NEW YEAR, MY DEAR PEOPLE, WHOM I DON'T KNOW MUCH ABOUT 🙂

About the year we spent i.e. 2014, I won't say that it went awesome or something like that because the readers can be from anywhere and if I say it was awesome here, it might not be so elsewhere; you can see how conscious I am about others welfare. By the way, Hi10 also had some trouble times; and those who helped us in time of crises have HI10's sincere thanks and my squishy hug (damn, I sense deja vu...)
Anyway, there were many global mishaps like...
- Jets getting lost causing many deaths and misfortunes.
- ~300 School kids getting butchered; total massacre.
- Terrorism like Germany beating the crap out of Brazil in Soccer WC.
And some globally good things...
- I am alive.
- You are alive.
- Naruto Shippuuden's (manga) ended, finally. O GOD, thank you.
My point is it's very easy to spread fear and chaos, just like it's very easy to fail in life. Similarly, it's hell lot of trouble to maintain a good positive mind just like getting highest marks every time. (Yes, a year's gone by, still a student.)
We shouldn't be oblivious to things we don't like. Face the hellish incidents just as strongly as you face the joyous turn of events; it will make you strong. Therefore the least we can do for 2014 is remember each good and bad things it offered, thank God for good ones, be warned for bad ones and MOVE ON.
Welcome the 2015, because years are just indication of time and time is just a unit humans made to keep track of things and keeping track was hinted to make life easy for humans; 2015 is made for us, we're not made for 2015. 🙂
Moving on, there's a well known trend of 'planning the year'.
Here's what I'm looking forward to...
- Stay alive. (Yes, don't want to die, yet.)
- Polish my trolling skills.
- Set many reminders to NOT to forget my love's birthday. (Keep reading, you'll get it.)
- See my love after ~4 years finally, excluding skyping etc. (For one day, though 🙁 )
- Ditching my friends, 15 to be exact, having no cash, out in cold night and eat dinner in a well-heated restaurant.
Things I'll try NOT to do this year...
- Watching GOT trilogy (three seasons) before exam nights.
- Thinking that I'm fit enough to go for hiking.
- Leaving my love wish-less in cold blood. (I felt dead inside; worth a experience, though)
Just to be clear, my sharing a little personal information here doesn't mean I'm asking for attention, but it's here to show you I think of you people "WORTHY ENOUGH" to hear my side; shit... I mean, you're like a big-family to me, stuff like that... get the mood already, okay. 🙂
As for the gifts and stuff like that... I'll just have to improvise and encoding a series right away isn't gonna be creative enough. I'll just show you my planned anime (and make sure that there's no clash with other encoders at the same time XD) Other staff are free enough to edit this post to share their gifts. (But be clean XD)
AGAIN, HI10 WISHES YOU THE BEST OF 2015. STAY HAPPY, LIVE LONG AND LOVE TRUE 🙂
AND THE BEST-ANIME-OF-THE-YEAR AWARD GOES TO: GUESS IT.

P.S: I mentioned 'your being alive' as a 'globally good thing'; you're welcome XD
Happy New Year | Yo 2015, Heroes Always Come Late; Nothing Personal

,